Valencian Paella Cooking Class and Tour Market
Private Class - Paella Workshop
Valencian paella experience
We are a valencian experience. We offer paella cooking class. Our aim is that you have an unforgetable experience. We want to teach you in a way that you feel ready to prepare an authentic paella by your own. And that you always remember the most important ingredient: to have fun! Our space is available for private paella classes or private events of another kind. Welcome to a very special encounter! Join into a group or request a for private paella workshop.
paella cooking class, tapas & tour market
Valencian Paella
The original recipe born in the Valencian Community. The rice is the main ingredient followed by chicken, rabbit and vegetables.
Seafood Paella
This paella recipe is more laborious. Needs fish and vegetables previous broth, for its elaboration a sauté called "salmorreta"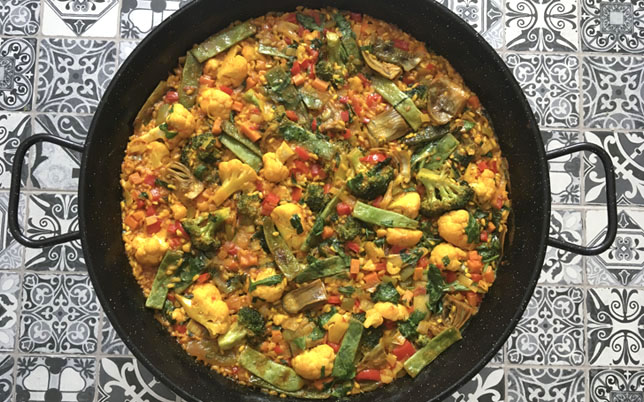 Vegetable Paella
Made with seasonal vegetables founded in the vegetable fields of Valencia. It has not meat or fish.
100% Vegan
Private paella cooking class - team building
We make paella workshops for groups in private and team building. We prepare a experience specially made for you. Contact us to receive more information.
Margaret
Absolutely a MUST DO! This class takes you on a tour of the Russafa market to buy fresh, local ingredients for the paella you will be cooking. Once the ingredients are purchased you head to the kitchen (a short walk) and have tapas and sangria. Then the paella cooking begins. This is a very hands on class with lots of laughs and some history on the region. You will absolutely love the hosts and their energy! The best way to enjoy paella is to cook it, not to just order in a restarant. Definitely this experience is one I will remember!
John
" Fantastic experience! Great opportunity to experience the Russafa market with locals; lots of unexpected perks such as samples in the market and different types of wine; lovely atmosphere with other guests; and healthy paella portions. The theree host were friendly, energetic, knowledgable and welcoming - they clearly put a ton of heart and soul into this wonderful experience that my mum and I will remember for a long time "
Kevin
The chefs are amazing and made everyone had fun, the kitchen was super clean and it shows that they extra care of hygiene. Hands on experience cooking this delicious authentic recipe that was fun and enjoyble 100% recommended!
Abel Shelburne
I am from the United States, and I have spent the last three months traveling around Europe with a school group. We have been to Iceland, England, Scotland, Italy, and, now Spain. Out of all the experinces I have had (all the restaurants I've been to, all the tours I´ve been guided through), perhaps the most authentic, joy-filled, interactive time was spent at My First Paella. The gentlemen who ran the establishment were amazing to be around. Definitely recommend if you want to have a night filled laughter, good food, and great community!
Patrick
We really really enjoyed our experience. Very enthusiastic about showing off their culture and it's history whilst providing a fun, informative and very friendly event. The venue is a smart and clean space and the overall value is excellent.
Candy
Highly recommend this tour for anyone who wants a wonderful paella making experience! I'do this experience again if my friends want to learn how to make paella. I've learned a lot about paella history and how to make proper paella from this experience. Also made friends with other guest as paella cooking is a team work effort! Super fun and the chef was super knowledgable and entertaiming. It's not only a regular cooking lesson. The chef was really fluent in guiding us how to prepare for the ingredients and each steps and it was really fun making paella as a group. It was the best paella I've ver had!!!!