A team of native cooks and assistants who will teach you how cook it in the most enjoyable and amusing way. We will try that you learn all the keys of the paella. We will meet at the door of San Valero Church and then we will go to the Ruzafa market together and we will make the purchase. We will tell you the origen of the paella, customs and culture of the valencian people. Later we will talk for 8 minutes to reach the kitchen where our chef will be waiting us with some delicious tapas accompanied by sangría, soft drinks, water… Then our chef will explain step by step the preparation of the paella and once finished we will sit down to taste it. We will accompany the paella with a valencian tomato salad, valencian wines, seasonal fruit, typical valencian sponge cake, sweet wine and coffe.
Included
All ingredients an materials
Sangria, beer, solft drinks, water, Valencian DO wine…
Manchego cheese and ham welcome
Steamed mussels
Patatas bravas
Olives
Cazalla (aniseed brandy)
Valencian salad with tomato
Dessert: seasonal fruit
Coca de llanda (Typical Valencian sponge cake)
Coffee and shot of Mistela (Mistela is a drink that is made with grape juice of concentrated wine and the addition of authorized wine alcohol)
choose your favorite paella
Valencian Paella
The original recipe born in the Valencian Community. The rice is the main ingredient followed by chicken, rabbit and vegetables.
Seafood Paella
This paella recipe is more laborious. Needs fish and vegetables previous broth, for its elaboration a sauté called "salmorreta"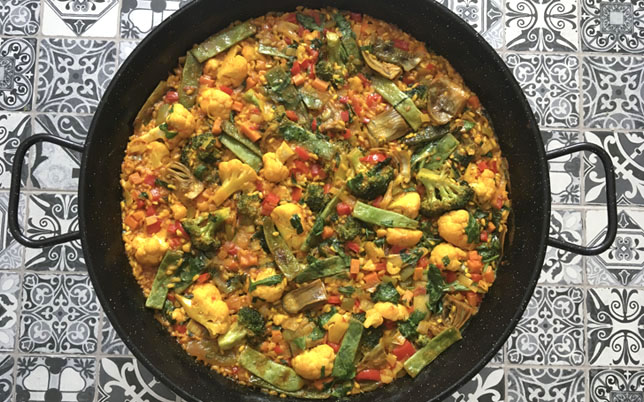 Vegetable Paella
Made with seasonal vegetables founded in the vegetable fields of Valencia. It has not meat or fish.
100% Vegan